(Sorry fellas, that says "luck"...)


It's possible that I'm more than just a bit delusional this week.
I preface the whole post with that info because it will explain a lot. Just, you know, keep the cheap jokes at my expense to a minimum (or make them really funny).
On my scheduled "Tuesday To-Do List:" is a note reminding me to pick a lotto ticket. Sure, the odds are several million-to-one against me striking it rich, but…




























(I pulled my winning numbers from this book, so I can't lose!)
IF I do pull of victory in the face of impossible odds, well, several good things would likely happen, including:
1. The whole "don't quit your day job" retort to either my musical or writerly endeavors becomes pretty moot. Of Mirth & Matter would become Of Mirth & Matter, LLC and Drew, David, Alliene and myself would be salaried employees (maybe even with health insurance) and it's quite possible we could end up spending a lot of free time over at
Tree Sound
.













(If you don't know about studios, trust me...it's nice.)
And speaking of free time, when the band isn't practicing, on beautiful days I would take my
new, brobdingnagian laptop
downtown to do some writing. Obviously the implied point here is that any "day job"-related criticism would be greeted with a cheerful "too late for that," because, let's face it, set me up financially for life, 8am just isn't an hour I'm going to start my day with too often. Oh sure I'd miss a lot of the fun and camaraderie, but that's what meeting up with old lunch buddies to go out for lunch at the new Harry Bissett's is for.
2. In the short-term, embracing-my-inner-consumerist sense, it'd put an end to my current pain-in-the-duodenum. My car, revived, Lazurus-style, last fall, came down with a case of the dead alternator. It's safe to say that it would be donated to my parents and something else (possibly a Maseratti Quadroporte sedan, red with grey leather, or a Cadillac ESV, black with tan) would replace it.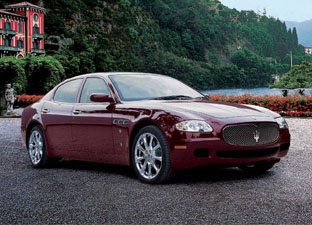 (If you see me rollin', don't be hatin')
3. It'd be a lot easier to keep my reoccurring resolution to travel more. Travel, of course, being one of those things that's much easier when you don't have to worry about things like being fired for missing work, or spending all your money on plane tickets and getting evicted.
3a. This would greatly change my travel plans for the weekend, which were, prior to the whole dead alternator issue, centered around a trip to Baltimore, home of the illusive Biggun, and currently involve sitting around my apartment wishing the alternator could've had the decency to screw me out of money after I'd blow a good-sized chunk on a nice weekend.
















(Alleged photo of The Biggun in the Wild...it may or may not be real.)
But basically coming into some money late Tuesday night (technically Wednesday morning would be the earliest I could actually spend it) means I get the B'more trip after all. And, just maybe, a late Friday sojourn into Jacksonville for the World's Largest Outdoor Drunk-fest and Bacchanalia. And that gets me to...
















(We were big underDawgs in 1997 too if you recall...)
4. If my luck gets to the point that I can beat huge odds, so can the Dawgs. For starters, they're due for an upset in this series. It could be argued that at least from 2001-2004 the Dawgs had the better talent.
While we may bemoan some of Coach Richt's Field Goal-kicking, conservative tendencies, ask a Florida fan about Ron Zook and then try and disagree that we didn't have superior coaching too. But it almost always was Florida coming out ahead.
The worst of these of course was the disastorous 2002 game: UGA coming in undefeated, Florida coming in with multiple losses and obviously not the same team minus Darth Visor. Then, a year later, the Gators dink and dunk the defense to death, and Chris Leak looks, well if not quite as good as the hype, pretty poised in leading the Gators to a 16-13 victory (and both people who bet that the final score for UGA-UAB and UF-UGA would be the same retired with their winnings).
It's time for payback.
It's time the defense remembers that they do know how to tackle, and that at the start of the year, they did something that hadn't been done by a Junkyard Dawg D in over two decades in pitching consecutive shutouts.
It's time for Matt Stafford to sling the ball like a classic gunslining QB, minus the INTs.
It's time for MoMass to silence his moronic critics, and the rest of the WR corp to continue the job of stepping up they started in the 1st quarter vs. UT.
It's time for UGA to win one that maybe they shouldn't and put some psychological pressure on the other team (Leak, after all is becoming the SEC's answer to A-Rod).















(Classic Yankee Choke, or action shot of Leak running the option? Sometimes it's hard to tell.)
The UT series didn't turn when the 2000 team finally broke through against a weak Vol squad and halted a long win streak, but the next year, when a very inferior UGA squad pulled off a lid-blowing upset in Knoxville. Want to really give fans hope for the future? Go into Jacksonville and come out with a W. They won't see it coming, that's for sure. Then, who knows? There's a potentially winnable game at Kentucky, but when you upset Florida, the Auburn game is a possibility too. And UT, they still have to play a ticked off LSU team at home and a rapidly improving Arkansas team on the road.
SEC Championship?
Will Mosher, 20-something lotto winner and millionaire?
Sure, neither one's likely to happen.
In fact, probably neither one will.
But it's nice to dream…